You can see abstract from the protocol below so how to read it?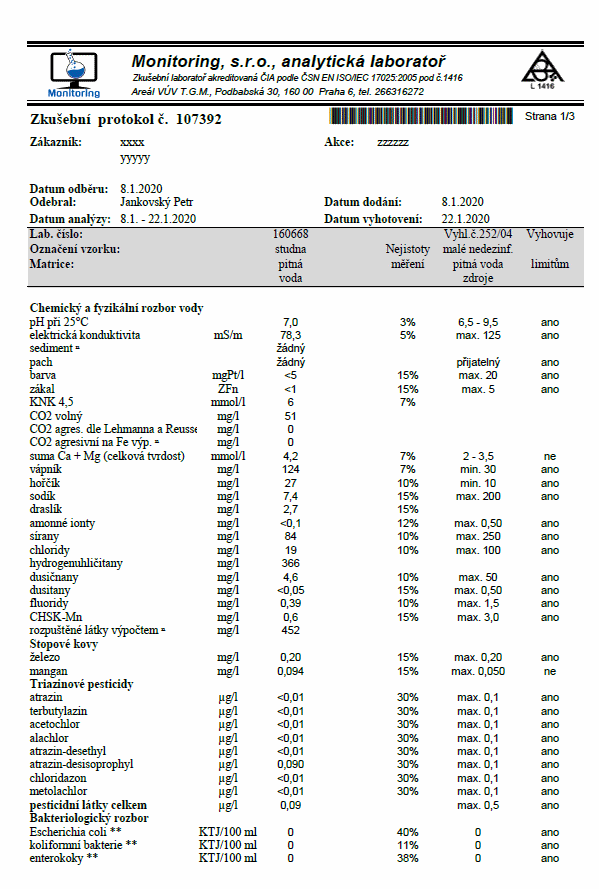 Each parameter is described in its line. For example pH by 25°C.
7,0 is the measured quantity.
The column with quantities 6,5 – 9,5 is the limit.
Last column the shows if the parameter meets the limits for drinkable water or not.
Therefore, you can only focus on the last column. If there is "yes" in each line, water is alright. If there is "no", you can check the beginning of the line to see which parameter is wrong.
When you know which parameter is wrong, you can look at the parameters description on our website and find out what it means exactly.
What to do if the results are bad?
If the results of the chemical and physical analysis (In the protocol described as Chemical and Physical analysis of water) are bad, you can't do much about it and you might need to contact a specialized company to help you.
If the bacteriological analysis (In the protocol described as Bacteriological analysis) is bad, you can fix it partly yourself with Savo. You can buy Savo for disinfection of drinking water, read through the instructions of dosing and pour the right dosage into your well. After one week you can repeat the analysis of the bad indicators only. (The ones with "no" in the right column.) Each indicator costs CZK 180.